WE ARE MORE THAN JUST EMBROIDERY
Not only do we offer embroidery services on YOUR item, we have a wide selection of items you can purchase & add embroidery or leave them 'as is'.
Spirit wear is available for any & all schools/teams.
SEQUIN SWEATSHIRT

Sequin appliques are perfect for adding the right amount of sparkle to your outfit. Just about anything is possible. Contact us with your ideas.

Spirit wear can be embroidery, vinyl, sublimation &/or screen print. Oh and SHOES! Check out our collection:

Shop Now

WHO SAID SPIRIT WEAR STOPS AT THE TOP?!?

Be warned - they go as fast as they come so if you want it, buy it NOW!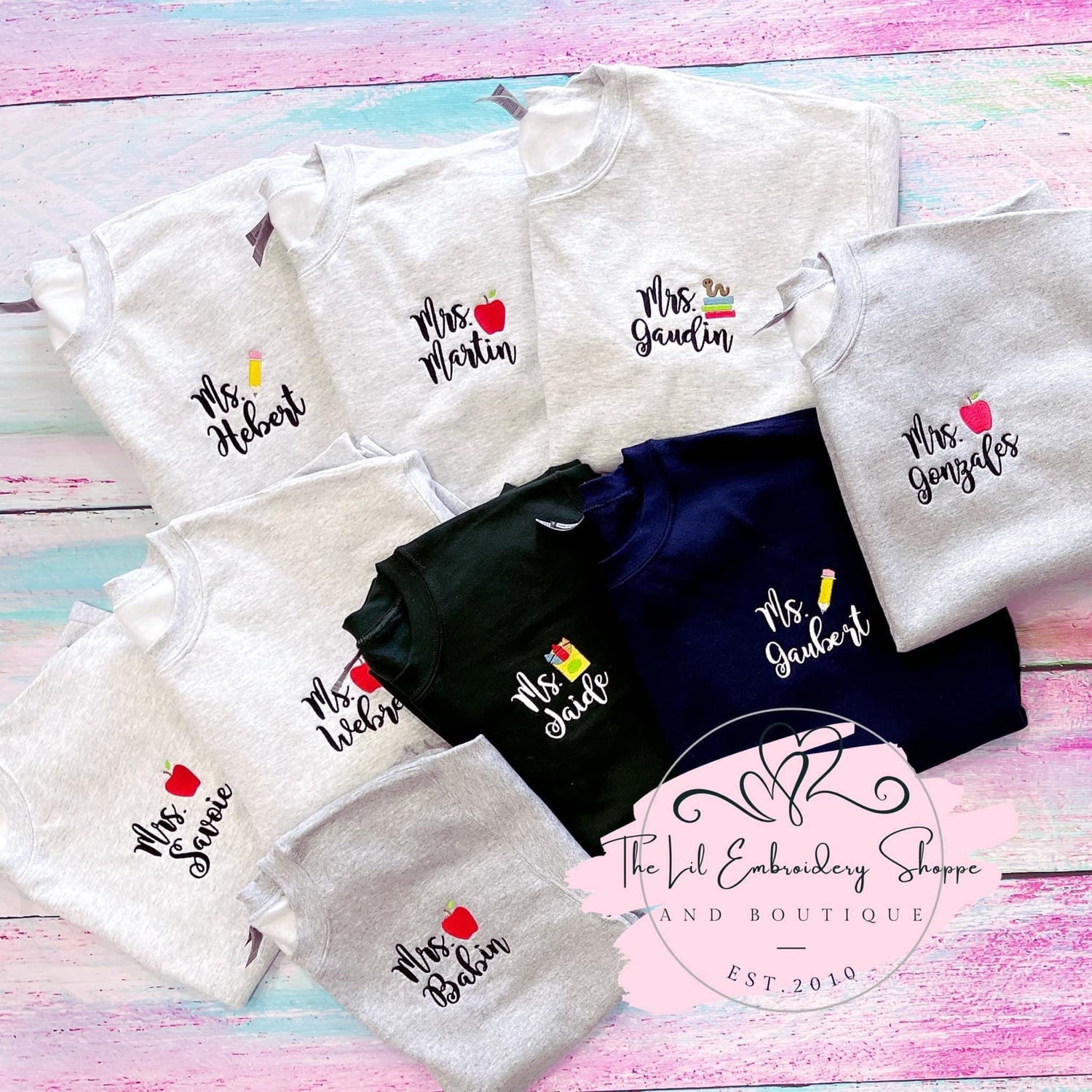 WE LOVE OUR TEACHERS!
Let us bring your ideas to life! Whether you are the teacher or you want to give to a teacher - we have you covered!
MEET THE OWNER:
Hi, I'm Julie.  I'm the one behind everything.  I'm the social media poster, the biller, the shipper, the customer service rep, the designer, the embroiderer, the everything behind it all!


I'm a wife and mother of 3 adorable, not so little kids!  Madison, Jace & McKenzie!  If you are in our FB group, you hear a lot about my kids and see tons of pics!  They are the reason I work SO many hours.  Hopefully one day they share my passion and take over the 'empire' I am building them.

I work hard to please everyone but I know pleasing every single person is impossible - I still try though. The Shoppe is my passion. It's like my 4th child. My hands are on & in everything to do with the Shoppe! I take great pride in everything that walks out our door.

I hope you find everything you are looking for and a little bit of something you didn't know you needed! I am open to any & all suggestions so feel free to shoot me a message!

- XOXO Julie